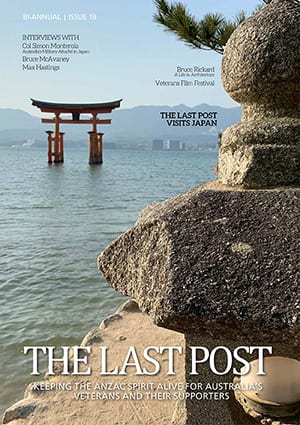 Latest Edition:
Issue 19: 2018 Anzac Day
We are extremely proud to release our latest edition.
In 2019 TLP editor Greg T Ross visited Japan under the Japan-Australia Grassroots Exchange Programme. To commemorate the visit and the progress made through face-to-face meetings, this special Japan-Australia edition of TLP covers as many areas possible that represent common ground for the two countries, including an interview with Colonel Simon Monterola. We interview Bruce McAvaney in sport, and also interview Catherine Hill, Michael Flood and Max Hastings.
Are you looking for earlier issues?
We are doing some maintenance on the website. Apologies for any inconvenience, all the past issues will be available here again soon.
Meanwhile, you can access all the issues here.
Or, if you would like an electronic copy of an earlier issue sent to you please contact our designer, Kirstie Wyatt.