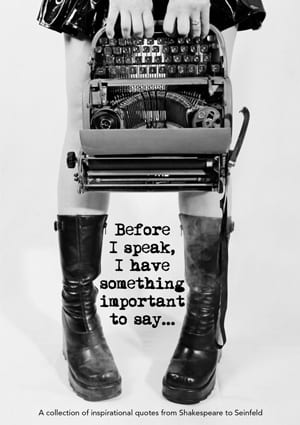 Our team is excited to share a preview of our brand new publication, Before I speak, I have Something to Say.. A collection of inspirational quotes from Shakespeare to Seinfeld.
Before I speak is being launched nationally in 2019, as an adjunct to the already highly successful magazine The Last Post. This innovative new publication has a focus on mental-health and wellbeing, love and connection and is packed with great graphics and inspirational, empowering, loving and funny quotes.     
Before I speak is distributed through the database of The Last Post magazine, which has been operating nationally since 2011 and has a distribution of 100,000 copies electronically and printed.
Before I speak will be distributed through subscription, mailout to corporate supporters, state and national libraries, wellness centres, health-focused outlets, veterans groups and governments.
Before I speak creates a new opportunity for our clients to align their company or product with the mental-health and wellbeing industry that is rapidly growing and creating its own genre. Become part of this loving gesture and increase consumer awareness for your brand. Please see our Media Kit here and contact us with any enquiries.
Enjoy the preview!